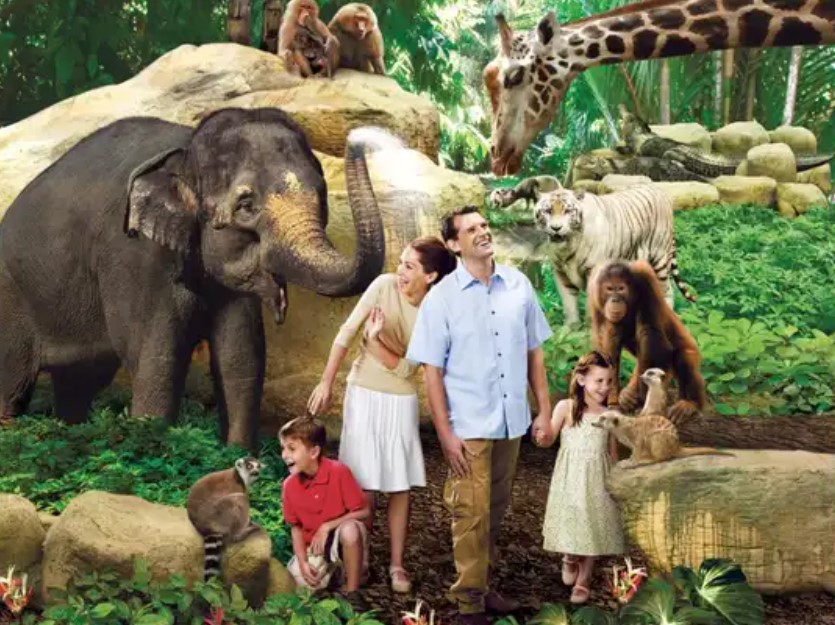 Singapore is known for its modern cities and metropolises. However, that does not mean Singapore does not set aside a place for animal lovers. One spot in Singapore that can be visited by animal lovers is the Singapore Zoo.
singapore/product/singapore-zoo-tickets-8382168721460″>Singapore Zoo is designed with a natural rainforest environment and has 11 zones inhabited by a variety of wildlife from around the world. You can get the Singapore Zoo ticket via Traveloka.
Some of the famous ones include the Australasian Zone, Primate Kingdom, Reptile Garden, Tortoise Shell-ter, Great Rift Valley of Ethiopia, Fragile Forest, and others. With an area of about 26 hectares, the 40-year-old Singapore Zoo is inhabited by more than 2,800 specimens from 300 species of mammals, birds, and reptiles.
In addition to being home to 2,800 animals from 300 species—including crocodiles, Asian Tapirs, and white tigers—the zoo has won numerous local and international awards.
This includes a recognition from Forbes Traveler as one of the best zoos in the world, the Asian Attraction Awards for Most Popular Attractions in the Wildlife Park category, and the STB 22nd Tourism Award for Best Leisure Attraction Experience of the Year.
Going around to the zoo is indeed a fun experience, but without maximum preparation, it will be less fun. Well, to make your vacation more enjoyable, here are some helpful tips on getting around at Singapore Zoo:
1. Be Prepared for All Weather
It rains a lot in Singapore, given that Singapore Zoo is located right in the middle of the rainforest, so the chances of rain at Singapore Zoo are pretty high. If it's not raining, it will likely be hot and sunny. Therefore, do not forget to bring your sunscreen, hats, sunglasses and plenty of drinking water. Also do not forget to have mosquito repellant in your pocket – those mosquitos love the rainforest!
2. Bring Snacks and Water
When you're exploring Singapore Zoo, it will be pretty tiring. So bringing your own snacks and water is important. You don't have to buy snacks or water, so you can save your money for another trip while in Singapore. Except, you are really planning to try food in the Singapore Zoo restaurant.
3. Take The Map
If you are coming to the Singapore Zoo for the first time, it would be great to take the map that you can take at the entrance gate. On the map, you can see interesting places in the zoo along with the animal shows schedule. So you won't run out of time to find the location you are going to.
4. Set a Goal
For your information, Singapore has four zoo-themed tourist attractions managed in the same group, namely Wildlife Reserve Singapore, which is located in two locations, Jurong and Mandai lake. Jurong Bird Park is located on Jalan Jurong Hill, while for the Zoo area in Singapore, the Mandai lake area provides three parts of tourist attractions namely Singapore Zoo, River Safari and Night Safari. The distance from these two locations is quite far, which is about 19 kilometers or approximately 30 minutes by vehicle.
5. Create an Itinerary
After knowing that Wildlife Reserve Singapore has four zoo areas located in two different locations, you could now determine the area that you want to visit. From our experience, if you are your destination for family vacations and educational tours for children, we can recommend at least one full day to visit this zoo in Singapore.
6. Wear Comfortable Shoe and Clothes
Exploring Singapore Zoo, you will walk more. So, wearing comfortable shoes is a must! With comfortable shoes, your feet won't feel sore or tired so quickly. Not less important, you better use thin clothes, because Singapore Zoo is quite hot during the day.
With the tips above, are you ready to exploring Singapore Zoo when you're visiting the country?
Related Posts